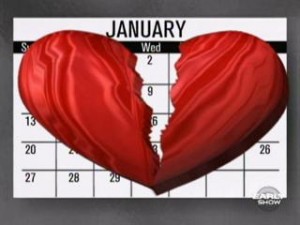 Often times the holidays fail to bring about peace, and are instead the triggering factor for the end of a marriage or domestic partnership.  Other couples make a joint decision to wait until the New Year for tax purposes or keeping the family together for one more holiday season.  Whatever the reason, although there is no "perfect" time to file for divorce or dissolution of a domestic partnership, filing at the beginning of the year usually makes sense for several reasons.
Obtaining accurate income information is easy at the beginning of the year because people will be receiving the previous year's W-2, 1099, or other year-end income information.  This is essential in determining correct figures for child and spousal/partner support.  The latest W-2 or 1099 is the most accurate source of a party's income.
It is also an ideal time to establish custody and visitation orders.  For starters, the major holidays have already passed, so there is less of a "rush" to figure out the next year's holiday schedule.  Furthermore, there is plenty of time to determine summer vacation schedules, traveling plans, and whether or not the children will transfer schools in the next school year.  Since custody and visitation issues usually take a minimum of two months before they can be heard by a judge, it's always better to plan far in advance and begin the custody/visitation process sooner rather than later. 
For people with property, the real estate market begins picking up in February.  January is a perfect time to begin interviewing potential realtors, making improvements on the house for its sale, and staging the home to make it more marketable. 
Finally, beginning the New Year with a new outlook on life and a fresh start hopefully means that the following years will bring nothing but more positive changes.  Although choosing to divorce is never an easy decision to make, you should seek comfort knowing that you are able to begin the process in a way that will keep your best interests at the forefront.